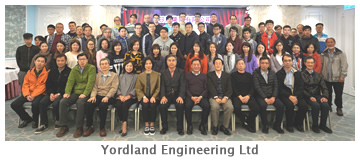 Founded in 1992, Yordland Engineering Ltd. has established a reputation of high customer satisfaction through its provision of competent, timely, and cost effective construction solutions.  It has been playing a significant role in the building services industry in Hong Kong since its establishment and is one of the most progressive building services contracting firm in the construction industry.
Apart from the application of advanced technology, our well-trained and experienced colleagues are another important aspect of our company.  Believing in serving our clients that each project is always treated as an unique one, we handle every and each project with attention to details in order to satisfy clients' high expectation.  
We have an engineering team with over 70 experienced engineering staff. They can guarantee that all projects are carried out and completed at the highest standard.
Our design teams provide supports to the project teams.  Our building services designers who have more than 10 years of experience are fully capable of handling any types of building services designs.
Since June 1998 Yordland Engineering Ltd. has been awarded the ISO Certification.  Each project is handled in accordance with the manual of procedures with an independent quality controller.  Our colleagues at all levels are committed to action plans according to quality accreditation: ISO9001 and ISO14001. This provides further proof of our professionalism.
We are specialized in the following areas of installations and maintenance:
Air-conditioning, refrigeration, heating, ventilation, and acoustical treatment
High voltage and low voltage electrical services including emergency power generation
Extra low voltage systems
Fire services systems
Building automation and energy conservation systems
Security systems, CCTV, CABD
All our projects are managed by Project Managers who have more than 20 years' experience in building services.
Works Licenses
Government Listed Specialist Contractor (Group II) for Public Works in category of "Air Conditioning Installation"
Government Listed Specialist Contractor (Group II) for Public Works in category of "Electrical Installation"
Government Listed Specialist Contractor (Group I) for Public Works in category of "Fire Service Installation"
Registered Ventilation Contractor with the Building Department
Registered Electrical Contractor with the Electrical and Mechanical Services Department
Registered Fire Service Installation Contractor with the Fire Services Department
Registered Minor Works Contractor with the Building Department (Class II & III for Type A-G)